Are you curious?
At Alfa Laval, we always go that extra mile to overcome the toughest challenges. Our driving force is to accelerate success for our customers, people and planet. You can only do that by having dedicated people with a curious mind. Curiosity is the spark behind great ideas. And great ideas drive progress.
In the vacancy section you find opportunities for curious minds to have a lasting impact on some of the planet's most urgent problems.
Advancing better. With Alfa Laval.
Alfa Laval India
Our Purpose


An attractive workplace
Alfa Laval's employees are the company's greatest resource. Creating a secure, inspiring work environment is therefore a top priority, as is forming a culture that can both attract and retain talent and allow people to thrive. Succeeding with this task requires a great deal of sensitivity to everyone's individual conditions and needs.

Inclusive workplaces free from discrimination.
Employee engagement through interactive knowledge enhancing, motivational webinars.
Digital Collaborative platforms for employee interaction. First Virtual sales conference hosted in 2020 with engaging group work.
Various work life balance initiatives.
Empowering employees with open and informal culture. Employee friendly policies for them to go an extra mile.
Opportunity for employee to contribute to a more sustainable future.
Optimizing customer processes to benefit people and the environment
Alfa Laval aims to help enhance the productivity and competitiveness of its customers in various industries throughout the world. We define their challenges and deliver sustainable products and solutions that meet their requirements.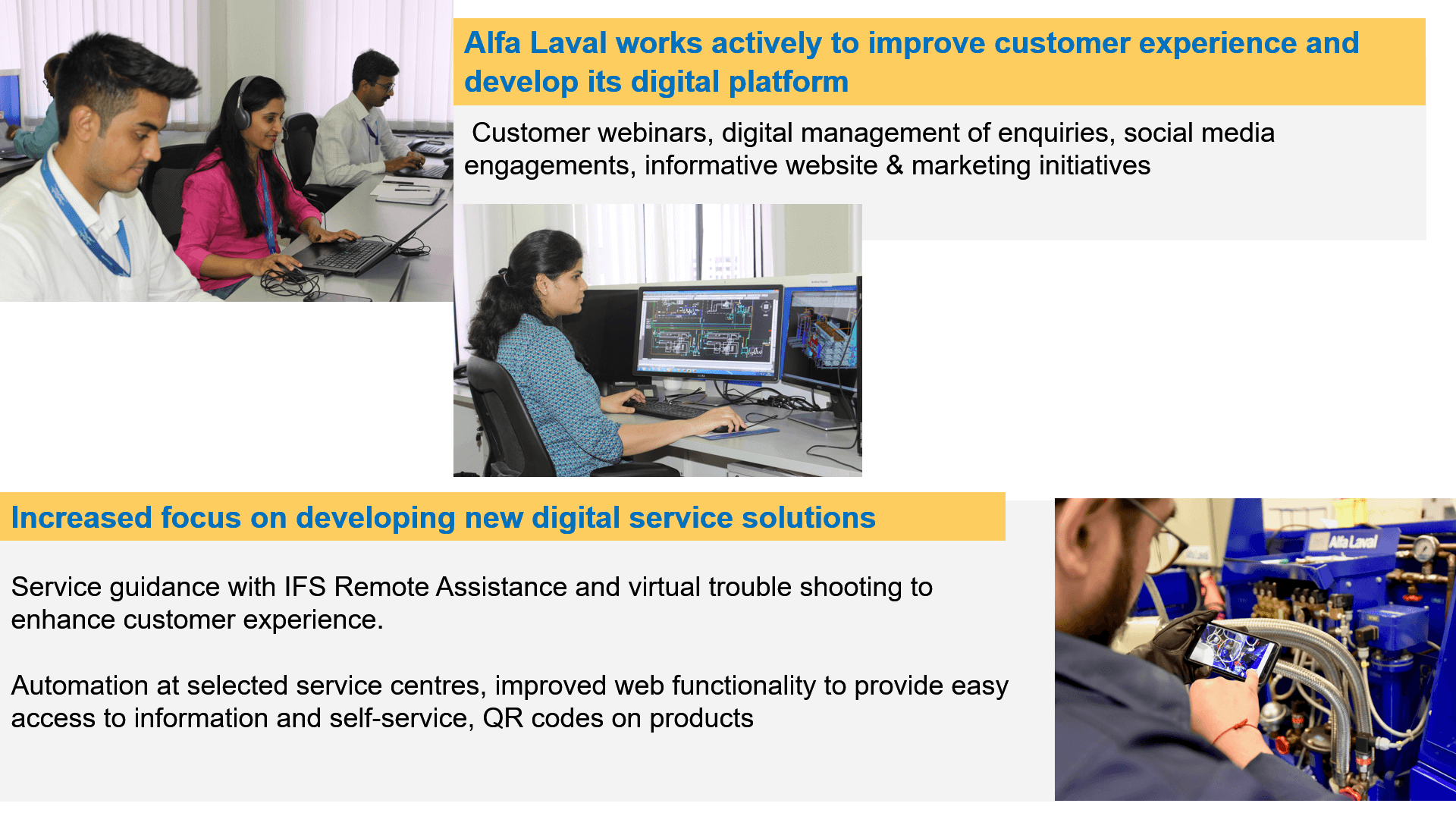 Employee safety is our priority


Alfa Laval's employees are the foundation of the company's success, ensuring their health and safety is only natural. Alfa Laval works continuously to create a healthy, safe and attractive work environment for its employees as well as its contractors, customers and visitors. The company strives to be a workplace that is free from accidents and work-related illnesses.


Diversity that enriches
Alfa Laval is an international company with Scandinavian roots and a global organization that serves customers in approximately 100 countries. Diverse nationalities among the company's employees are therefore a natural part of its operations. Diversity is about bringing together individuals who are different, who think differently and contribute different perspectives – or who are of different genders, ages, and have different experiences. This variety is something the company strives for.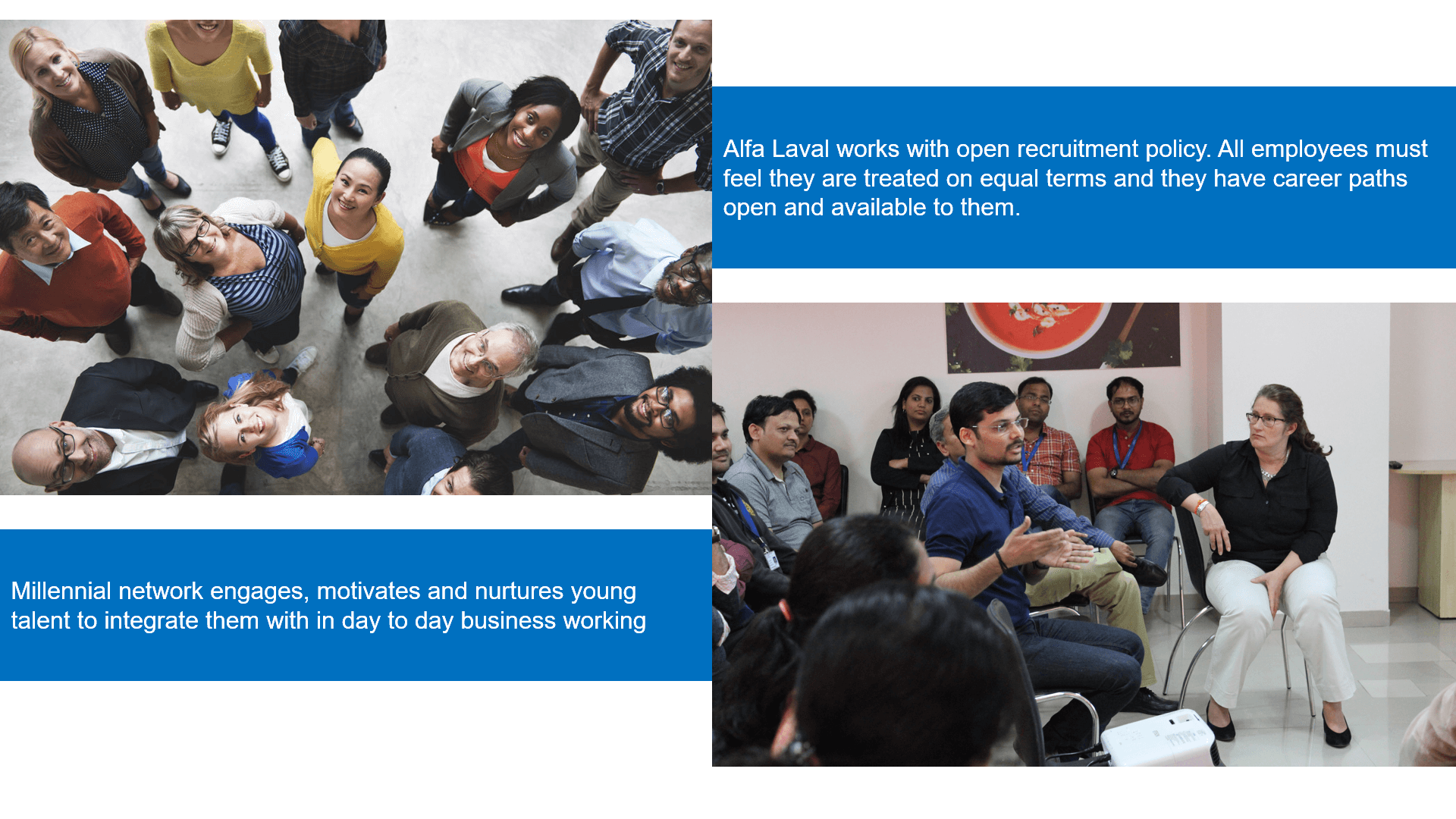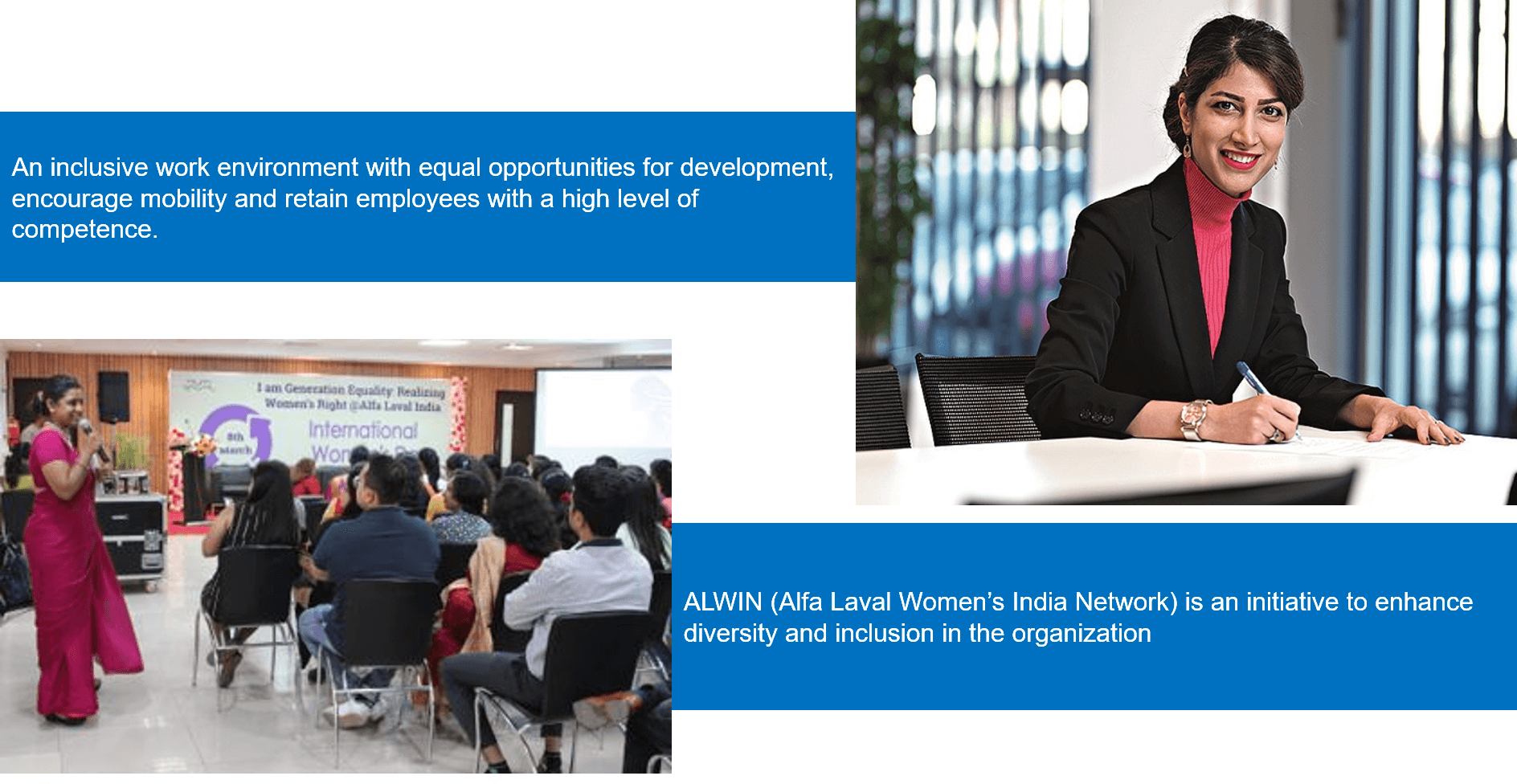 Apply Now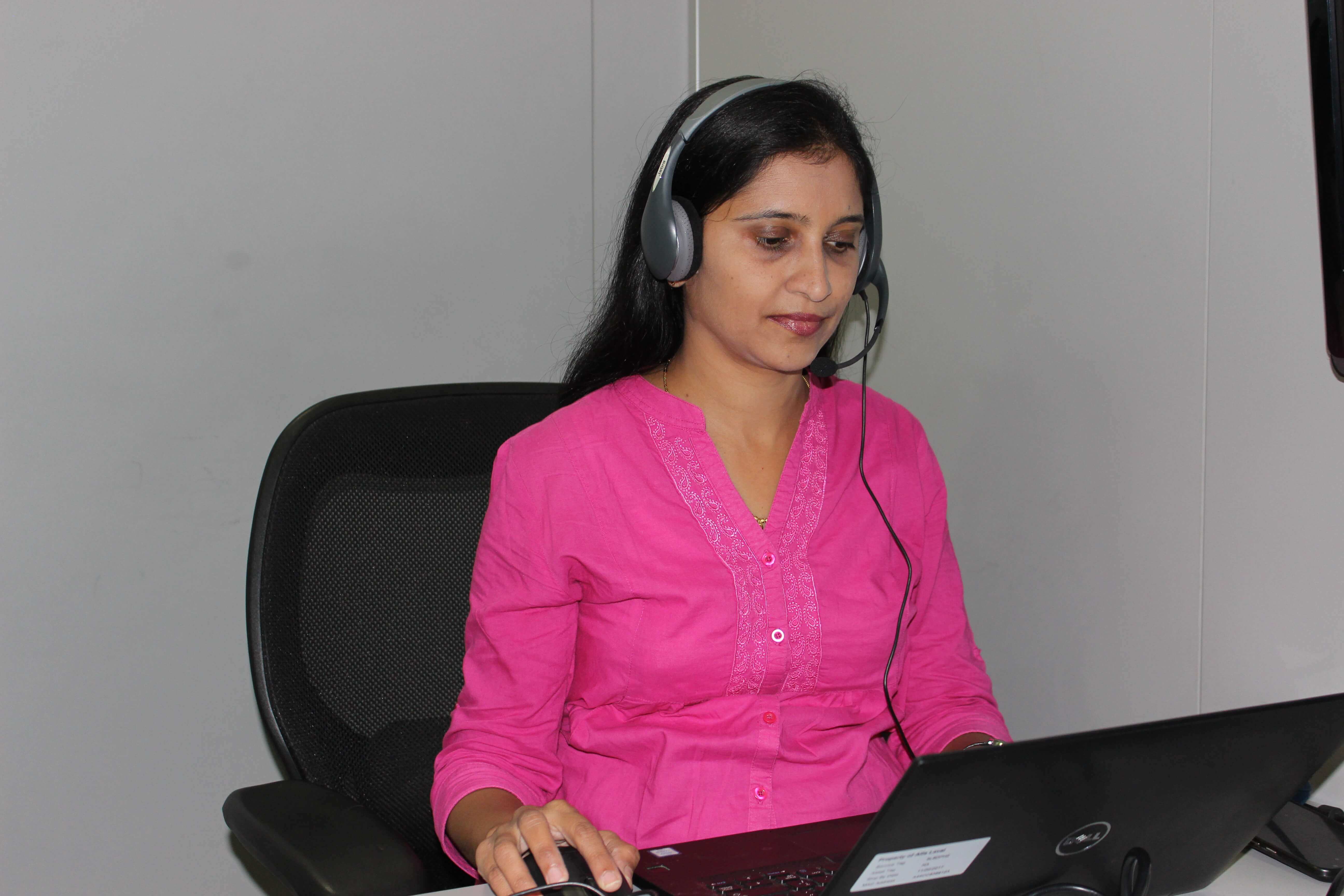 In the vacancy section you find opportunities for curious minds to have a lasting impact on some of the planet's most urgent problems. Advancing better with Alfa Laval.
Send in your resume on hrsupport.alil@alfalaval.com
Alfa Laval Women India Network 2.0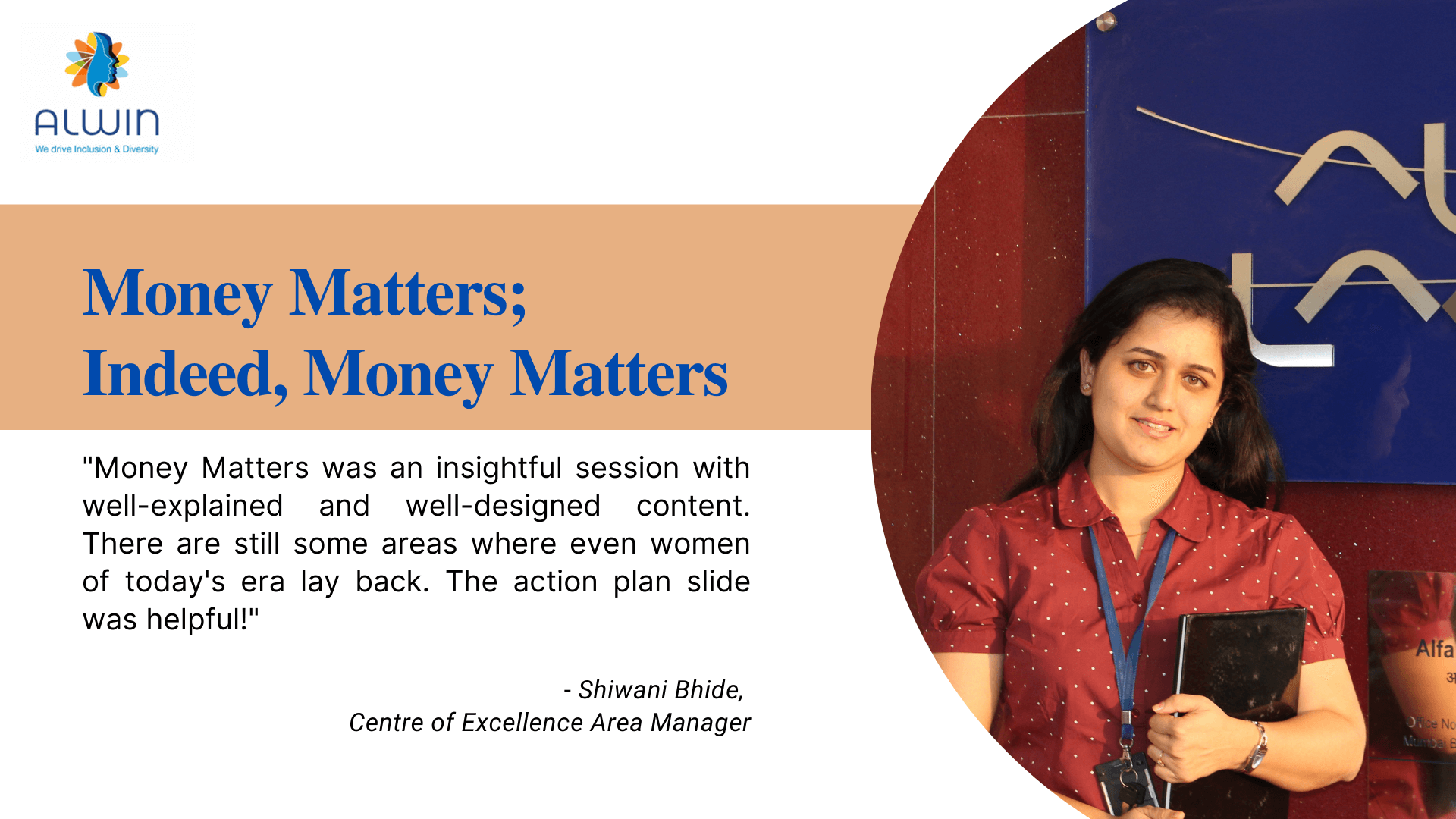 ALWIN 2.0 (Alfa Laval Women India Network) focuses on three core values: Attract, Retain, and Develop. The team engages women employees into various activities that focus on all-round development.
The team conducted the first event on "Financial Wellness." "Money matters, indeed, money matters", focused on empowering financial decision making among women. This was the first virtual event conducted under the Retain theme on Financial Wellness. The session was conducted by Supriya Bansal, Business Controller from Alfa Laval India & Susanne Broman, VP, Global Talent Management. Check out Shiwani share her experience.
THIS IS US!
Meet our curious minds:
"I continuously find new challenges"
Meet Camilla Arvidsson
Marketing & Product Management
"Super nice!"
Meet Manal Mohamed Abdeslam
Human Resources
"Be brave!"
Meet Jay Jeong
Refinery Market Manager
"We contribute to our agile transformation!"
Meet our Automation team
"You create your own success"
Madeleine Gilborne, Sustainability Specialist
"Have an open mind to learn new things"
Gurudatt Bhat, IT Specialist
"I'm saving the world!"
Meet Eva Andersson, Senior Specialist Refinery processes
Bringing positive news for marine wildlife
Microplastics constitute a serious threat to our oceans and seas. They take hundreds of years to degrade and can cause long-term harm to a variety of marine organisms. And we all swallow pieces of microplastic when we drink water. Enter Alfa Laval. Thanks to our membrane bioreactors, we have managed to filter out microplastics down to 0.0002 mm in a wastewater plant. Good news, no matter whether you live in water or need water to live.
Meet Jessica Bengtsson, one of our curious minds
Meet our curious mind Jessica Bengtsson, specialist in the membrane and water filtration solution. She was part of the Roskilde Fjord pilot project where Alfa Laval membranes were given the National Energy Globe Award for its excellent results.
Taking a different view on tomorrow's food
There is a growing need for high-quality protein. However, our planet is running out of agricultural land and the number of humans is accelerating. This is a tough equation to solve. Enter Alfa Laval. Insect farming might present an answer. The larvae of the black soldier fly grow quickly and can be harvested within weeks. Thanks to Alfa Laval's technologies, these small insects can be processed into foodstuff. 90 percent less space and feed are required compared to conventional farming. So, the black soldier fly really is in focus. It is creating a buzz when it comes to dealing with one of our biggest problems.
Meet Sumit Pingle, one of our curious minds
Meet our curious mind Sumit Pingle, who has many years of experience from working with different protein sources and process solutions. According to him, Alfa Laval's extensive know-how from more than 50 years in the business, and the fact that all Alfa Laval's core products are needed in the process solution have made the company a significant and well-known partner to the industry.
Taking guidance to navigate sustainably
The main priority for a captain of a merchant ship is the safe transportation of cargo from A to B. But equally important is complying with stringent regulations on exhaust gas emissions and water discharge. Being out of compliance may lead to heavy fines and costly delays. Enter Alfa Laval. Thanks to our connected equipment on board and our data cloud above, more than 500 datapoints can be collected continuously from the ship. When a critical alarm is triggered or a system failure is detected, the captain and his crew are immediately alerted. They are remotely supported by Alfa Laval with immediate action. It is like having a guardian angel that enables sailing with a clean conscience.
This is just one example of how we are overcoming the toughest challenges. Curiosity is the spark behind great ideas. And great ideas drive progress.
Turning industrial waste heat into cosy comfort
Today, some 50,000,000,000 watts are lost in industrial processes, much in the form of waste heat. But why let this enormous amount of energy just disappear into the open air? Enter Alfa Laval. By installing our high-capacity plate heat exchangers, surplus heat from processes can effectively be absorbed and made useful. For example, as district heating. Creating a comfort zone not only for indoor lovers, but also for our atmosphere since this reduces carbon dioxide emissions by 150 million tons every year.
This is just one example of how we are overcoming the toughest challenges. Curiosity is the spark behind great ideas. And great ideas drive progress.
Meet Julien Gennetier, one of our curious minds
Meet our curious mind Julien Gennetier, talking about how he contributes to that Alfa Laval have a positive impact on customers, people and planet, by improving energy efficiency.
Preserving solar energy to brighten up a gloomy day
Solar and wind energy is the future. There is only one big problem: when the sun is not shining or the wind does not blow, no power is generated. Unless the energy can be stored effectively. Enter Alfa Laval. As part-owner of a new company, Alfa Laval is active to make this utopian dream come true. Electrical energy from solar and wind plants is converted into thermal energy via our unique and specially-designed heat exchangers. The heat is then stored and preserved in gigantic bays of molten salt, waiting to be awakened and converted back into electricity when needed in the grid. So, even for greyish days the forecast looks bright.
Meet our curious minds Emma Karlsson Lindbo & Mattias Norén
Our curious minds Emma and Mattias, talking about their cooperation together and how their curiosity contribute to their teamwork and success.
Read Here No 37 in a clickable version with links
Innovative food processing to turn bugs to burgers, or new technology to store renewable energy are only two examples of articles in the new edition of HERE magazine. The articles illustrate what we mean by responsible growth, providing solutions that benefit both people and planet. HERE won the Swedish Publishing Prize in 2019.