Corporate Social Responsibility
Alfa Laval's Business Principles encompassing Social and Environmental elements amongst others describe the way we must act so as to unearth boundless opportunities to make a positive contribution to a more sustainable future for India. In order to achieve this broad objective, it is important that we select and prioritize some of the vital opportunities that will deliver better everyday conditions for people in the community that we exist.
Green initiative of Alfa Laval creates a Biodiversity Park in a Red Zone in PCMC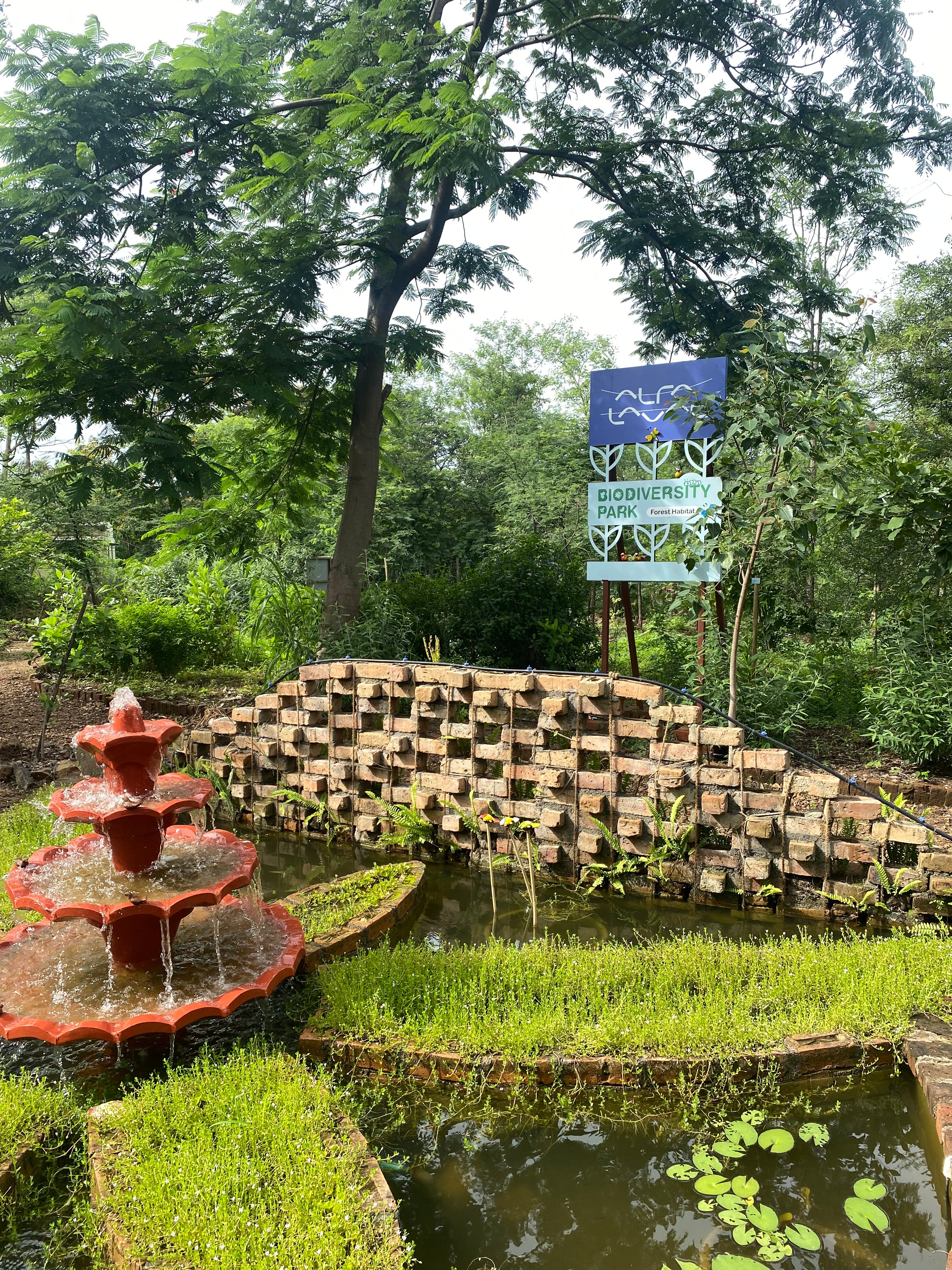 In 2019 PCMC allocated 8 acres of land in two parcels to Alfa Laval to create a Biodiversity Park. This project is being executed under Alfa Laval's CSR focus area of Environment.
Alfa Laval partnered with an expert organizations as knowledge and implementation partners . Based on the soil and topography the themes of Forest Land and Grassland was decided. It was important that the ecosystems should have native flora and fauna.
Existing trees were kept intact except for invasive species. Wetlands, bamboo fence, tunnels, bridges, mud mounds and bushes were created in both the parcels to influence the biodiversity cycle. Everything in the existing parcels was recycled and re-used intelligently.
An Experience Centre which consists of pictures, a smart board and animal models showcasing the various parcels and what species thrive in these areas was created to give more information to the visitors.
Till date, a total of 1038 trees, 1255 shrubs, 32106 shrubs have been planted in the 8 acres.
Over the last two years, the landscape has completely transformed. Now there are beautiful insects, butterflies, birds, and reptiles including snakes visiting the place.
In the coming years the process will keep growing and become totally self-sustainable.
Alfa Laval inaugurates new Learning Centre for Door Step School Foundation at Dapodi.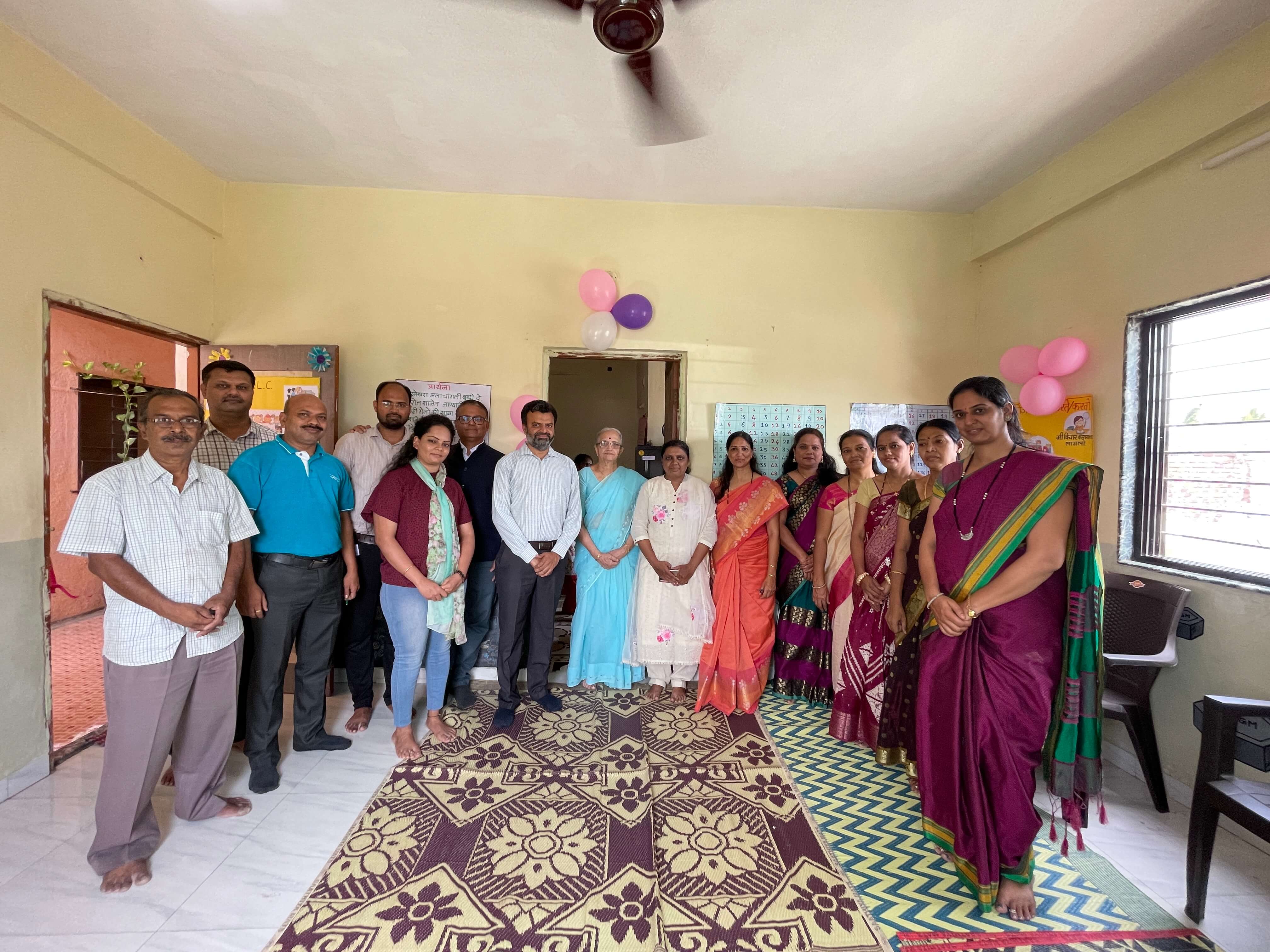 On 17th June 2023 the new Centre was inaugurated by Subhasis Das and Nishant Srivastava. Present on the occasion was Rajani Paranjpe, Founder Director of Door Step School and the brain behind the concept of Door Step School Foundation. This Community Learning Centre will cater to children from marginalized backgrounds, including construction workers, pavement and slum dwellers around our factory and surrounding areas in Dapodi.
Alfa Laval CSR volunteers Shripad Jadhav, Manasi Wandre, Rajendra Mahangare and Dhananjay Tokekar participated in the event. Our employees have been doing fantastic volunteering work at Dattawadi Center, especially in training children to take the Government Scholarship Exams. It is expected that in this Centre in Dapodi we will be able to replicate this activity.About Doorstep school:Door Step School runs Learning Centres in Pune where children come for completing their homework as well as studying in a better environment. Primarily these study centres focus on enrolling children from 6 to 14 years but also support them to continue their education till graduation and ensure that they do not drop out due to social or economic pressures.
Alfa Laval supports the local police station to make it women-friendly!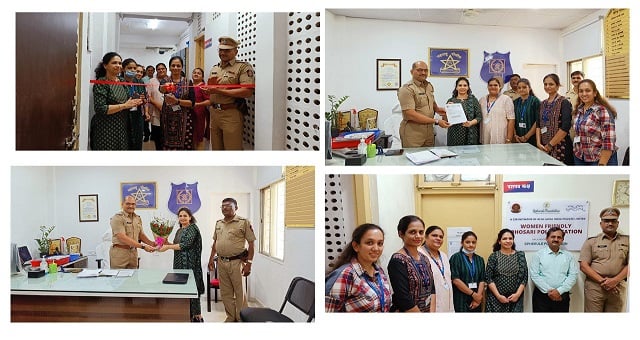 Alfa Laval offered to take up upgrade of two rooms and provide the necessary facilities at the police station to make it women-friendly. We partnered with an NGO to implement the project.
The initial idea for the project was sown when the officials of the local Bhosari Police Station approached the nearby companies to help in providing support to make the police station women-friendly.
This project was undertaken in the CSR focus area of Women Empowerment. It will not only benefit the women police officials but also the women from the community near our operations.
On 5th May 2022, the project was formally handed over to the Police Station and five of our employees were present at the event. Santati Patil said, "We all were very happy to be part of this noble cause. The event was very well organized, and Alfa Laval's efforts were well appreciated".
The Impact
The police station has more than 25 women police officers and they did not have proper facilities to perform their daily tasks. Also, the women victims who come to the police station did not have privacy or a place to rest before. This effort helped them overcome their challenges.
Women police officers face a lot of mental traumas while handling cases. Two awareness sessions were carried out by the NGO on mental health and stress relief. The participants have thanked Alfa Laval for arranging the awareness sessions.
CSR committee members
Subhasis Das
- Nishant Srivastava
- Shrinivas Dusi
- Prasad Limaye
- Amit Khare
- Rene Kramer
CSR at Alfa Laval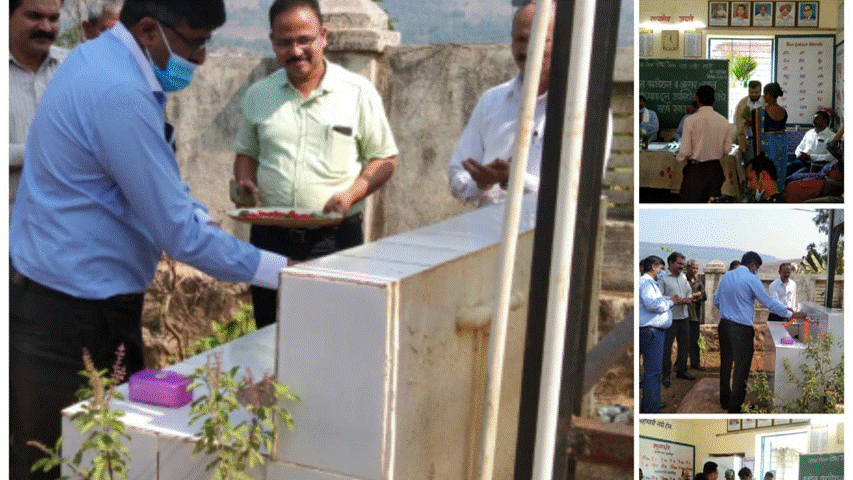 At Alfa Laval, we strongly believe that quality education should be provided to one and all. Recently, we partnered with Swades Foundation to help redevelop educational infrastructure and existing facilities for eight schools in Raigad District, Maharashtra as a part of our CSR. Hope this will create a positive impact in the lives of many!
Latest news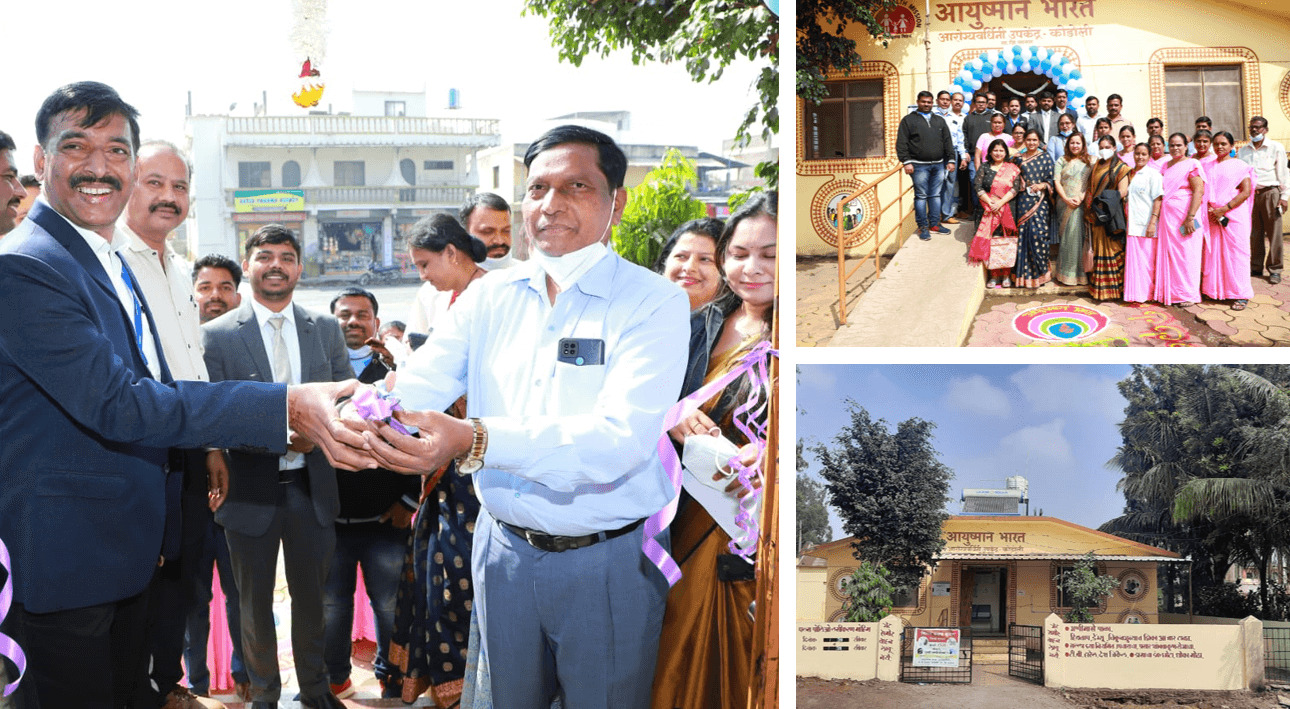 Alfa Laval India, as a part of its CSR initiative, has closely collaborated with Zilla Parishad-Satara and Y4D Foundation, an NGO to upgrade Primary Health Care Facilities in Kodoli and Chinchner, Satara region. The Project has been handed over to the District Health Officer, Zila Parishad -Satara through an inauguration ceremony in Kodoli, Satara.
Alfa Laval partnered with Y4D Foundation in April 2021. It was aimed at making superior, public healthcare more accessible to the region by enhancing the existing medical infrastructure, providing improved health care equipment, and providing Covid Care Support by distributing masks and sanitary kits.
Speaking on the occasion, Nishikant Gujare, Factory Manager- Satara, Alfa Laval Plant, India, said, "We believe that every initiative we take at Alfa Laval should benefit the people and the planet; through this initiative, we aim to make public healthcare more accessible and ensure that quality and timely healthcare reaches the grassroots. Alfa Laval also contributes to UN Sustainable Goals 2030, and with this initiative, we aim to contribute to UN Goal no 3 that is good health and well-being."
The Taluka Health Officer from Satara, Mr. D G Pawar responded with a vote of thanks to Alfa Laval's top management whose support, he feels was critical in upgrading the PHCs which are now almost comparable to private hospitals. The THO Satara has promised that they would maintain a record of the number of needy patients visiting over the next 3 years.
​​​​​​​The upgraded PHCs are now a benchmark and can be easily replicated.
Alfa Laval gets featured on nation's leading news channel NDTV in a show called "Kushalta Ke Kadam".
Alfa Laval's CSR project on Skill Development and Women Empowerment was recently featured on nation's leading news channel NDTV in a show called "Kushalta Ke Kadam". Alfa Laval under its CSR focus area of skill development and women empowerment partnered with Usha International, to set up Maharashtra's First Sewing Production cum Training Centre in a remote village named Velvand in Bhor Taluka. Twenty women were chosen and trained by Usha International. With eighteen months of training, these women are able to sew items like shirts, trousers, blouses, bags and reusable masks. The project has provided them a means of livelihood to support their families who otherwise depend on working as labourers in paddy fields which too is seasonal.
1st Digital Training and Resource Centre for teachers and students inaugurated in Pimpri Chinchwad
A new and first-of-its-kind Digital Training and Resource Centre was inaugurated at Karmveer Bhaurao Patil Primary School...
Alfa Laval's CSR partnership with Avasara Academy.
The Pune-headquartered heat transfer, separation and fluid handling solutions provider Alfa Laval India's major initiative in CSR is the empowerment of promising girls to lead lives of distinction and impact.
Alfa Laval launches Water ATMs (Water Purification Plants) at Maraimalai and Avadi
Alfa Laval launches Water ATMs (Water Purification Plants) at Maraimalai and Avadi to provide clean drinking water to over 3000 underprivileged households
Government schools in Raigad get redeveloped under Alfa Laval's CSR Project
Alfa Laval partnered with Swades Foundation to help improve infrastructure facilities and impart training to teachers of eight schools in Raigad, Maharashtra. The project involved improving water and sanitation facilities as well as the infrastructure of the classrooms. The schools were provided with a library, equipment for science practical experiments, speaking walls etc. Also, the training was imparted to the teachers of these schools by the Swades Foundation to improve the quality of teaching including the use of modern techniques. The redeveloped Rajvali school was inaugurated by our valued customer Mr Mahendra Khedkar of Embio Research. Along with the customer our employees also interacted with the children at the school. The customer said, "This project by Alfa Laval in Rajvali School has set a beautiful example in front of everyone." With this project we have contributed towards Sustainability Global Goal #4 – ensure inclusive and equitable quality education and promote lifelong learning opportunities for all. Due to the current pandemic situation, the other schools will be inaugurated in a phased manner.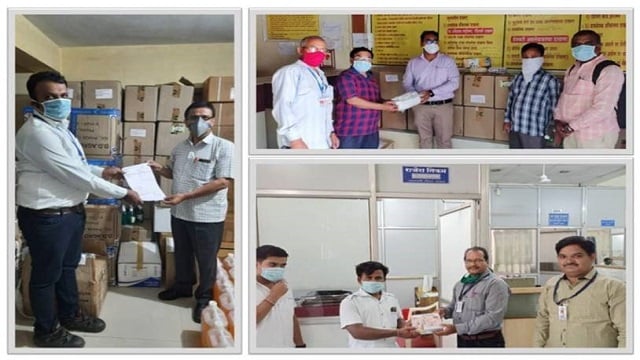 Alfa Laval strives to be a good corporate citizen that has a positive impact in the communities we work in. During COVID-19 pandemic, as a part of its CSR initiative Alfa Laval India has... read more
Solar plant installed at PCMC Science Park
Alfa Laval initiative to reduce 51 tons per year of CO2 emissions