The Alfa Laval Micro is a compact exhaust gas heat exchanger especially designed for waste heat recovery from small gas turbines as well as from small engines and clean process flue gas. In any operation, there is almost always room to continue reducing power consumption and related costs. The secret is in reclaiming the energy lost as exhaust gas heat. As the pioneer in waste heat recovery, Alfa Laval has the technology and expertise to help you further increase your energy efficiency.
Economical use of waste heat
Lower footprint and weight
Cleaning possible during operation of engine, turbine or process
Output can be adjusted according to the need
Extend the time in between major cleaning e.g. via dry-run mode
Low inertia

Applications
The Aalborg Micro can operate with a diversity of media, including water, steam, triethylene glycol (TEG) and thermal fluid oil (TFO). To date, Alfa Laval Micro heat exchangers have been used in different applications across a wide range of industries.

Design
The Aalborg Micro is build in a durable design featuring a heating surface consisting of a number of coaxial tubes arranged in a vertical or horizontal cylindrical shell plate. This, ensures a long-term, trouble-free performance and offers capacities ranging from approximately 250-5000 kW.
The heating surface of the Aalborg Micro has been developed for easy maintenance. Cleaning can be performed either with a pyrolysis process when operating in dry-run mode or using optional soot blower rings with compressed air, steam or water.
Technical data of GHR
Capacity: 250 kWe – 10 MWe
Exhaust flue gas side:
Maximum inlet temperature: 600 Deg C
Minimum outlet temperature: dependent on engine fuel and exhaust gas composition
Pressure loss: according to customer requirements
Geometry
Weight: (incl. insulation) 400 kg to 3900 kg
Diameter (incl. insulation): 950 to 1870 mm
Height (incl. insulation): 1700 to 2800 mm
Media inlet/outlet header: DN100
Exhaust inlet/outlet header: DN450 to DN1000
Insulation: 150 mm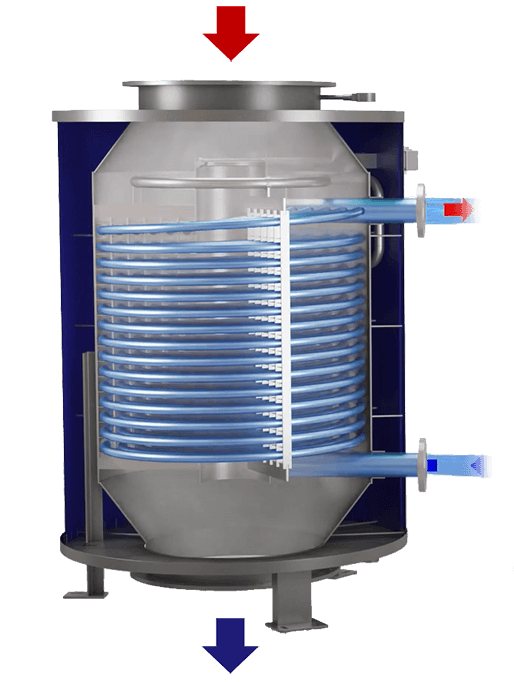 Selected recovery references
Power generation in China
70 x Alfa Laval GHR after gas engines to produce hot water.
Process flue gas in China
3 x Alfa Laval GHR 406 and 2 x Alfa Laval GHR 410 used to recover exhause flue gas heat from aluminium melting furnace to generate hot water.
Industrial process in Italy
Alfa Laval GHR 814 for hot water application after gas engine.
Hotel industry in Mexico
Alfa Laval GHR 210 for hot water application after gas engine.
District heating in Denmark
Alfa Laval GHR 714 for hot water application after multi fuel engines.
Power generation in China
11 x Alfa Laval GHR 422 with cyclone for steam production.