Planning a cooling system can be a complex task, considering the many factors involved in a successful solution. Alfa Laval supplies a comprehensive range of high-quality heat exchangers and components for cooling applications, and applies knowledge and experience gained from numerous completed projects around the world.
Alfa Laval Webshop
Browse through our product catalog to locate the Alfa Laval product best suited to your application and the nearest partner.
Comprehensive range, reliable performance
Most cooling solutions involve one or more heat exchangers. Alfa Laval identifies a solution for specific cooling needs, customised from our comprehensive heat exchanger range. Our performance-certified heat exchangers ensure reliable performance.
Solutions that perform under pressure
Alfa Laval provides solutions for major projects such as comfort cooling in skyscrapers. Large volumes of water must be pumped over great distances at constant high pressure through tall buildings. Alfa Laval's complete cooling portfolio for tall buildings includes heat exchangers in a pressure-breaking role to protect chillers and air conditioning units from excessive pressure.
Driving the future in HVAC
Alfa Laval 360° Service Portfolio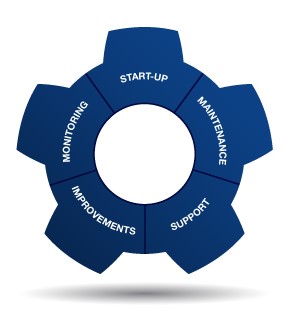 To keep your equipment in top working condition, Alfa Laval offers a comprehensive portfolio of services.
Contact us to find out how we can extend the performance of your products.